Chicago, IL, November 4th, 2019 – CGN Supply Chain Forum - CGN Global has partnered with CAINTRA (Chamber of the Manufacturing Industry in Nuevo Leon) to host and participate in the inaugural CGN Supply Chain Forum on November 14th, 2019.
Hosted at Club Industrial Salon Nuevo Leon in the city of Monterrey, Mexico the event will feature two speakers, Haydn Powell, Digital Manufacturing & Supply Management Strategy Director at Caterpillar, and Kiran Khadke, Head of Mexico Operations at CGN Global.
"This forum is specifically targeted towards businesses in Mexico. Under this program we plan to host a series of seminars and panel discussions on current issues and developments affecting supply chain management," said Khadke.
The first event will center on Digital Order to Delivery Transformation.
If you wish to attend the event, register here:
https://www.cgnglobal.com/mexico-supply-chain-summit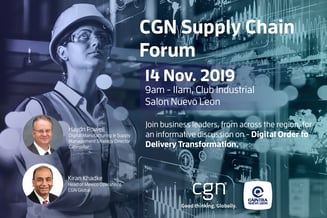 About CGN Global
CGN Global is a Chicago-based firm with offices in Mexico, the UK, France, Turkey, India, and China, providing supply chain, digital, strategy and transformation consulting services to mid-sized and Fortune 500 companies across multiple industries. CGN Global has appeared on the Forbes - America's Best Management Consulting Firms list, two years in a row, highlighted for its excellence in Supply Chain.
About CAINTRA
CAINTRA is an institution of industrialists, for the industrialists of Nuevo León, with the purpose of being the collective voice and the place of union between industrialists, also acting as a counterweight to public policies and government actions at the local, state and federal levels in matters of industrial competitiveness. CAINTRA influences our partners so they can understand their environment and be part of the changes needed to improve it. CAINTRA seeks, in a collaborative manner with its members, to take advantage of, face, address and resolve common opportunities and threats within the Nuevo León industry in an effective manner. CAINTRA seeks to contribute to the growth, sustainability, competitiveness and economic leadership of the industrialists of Nuevo León.