Attended E-commerce Roundtable
Omni-channel Retail and E-commerce Trends
CGN recently attended a round table discussion on "Omni-channel Retail and E-commerce Trends in India" to understand the trends, challenges and growth enablers of the online retail sector in India on 4th April 2018 at The Leela Palace Hotel in Bengaluru.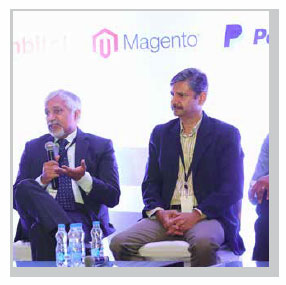 The event was an initiative of Magento Commerce and its partner Embitel Technologies Ltd, which is organizing such events all over India.
In addition to CGN, the event was attended by organizations like Adobe, Box Aii, Caratlane, Embitel, Future Group, ITC Infotech, KPMG, Kurlon, Magento, PayPal, Spencer, Zephyle, ZopSmart Technology.
CGN participated in the event and discussed about various trends, key challenges and way ahead for Omni Channel in India.
KEY HIGHLIGHTS
The Indian E-commerce industry has been on an upward growth trajectory in last decade
Projections for Indian E-commerce growth during 2017-2027 is in the tune of 20% CA GR
Indian E -commerce industry is expected to be second largest in the world by 2034 ahead of US
Technology, Content and Categories are three pillars in Trends of Retail & E-Commerce
Smart Content & Personalization is need of hour
E-commerce is looking at growth over revenue
Importance of Data Generation and harnessing it
E-commerce still inaccessible to less privileged & Non-English-Speaking People
Omni Channel bring best of both Online and Offline
E-commerce platform to be used as a Marketing Channel rather than Sales Channel
Omni Channel can be considered as Customer Engagement Centre
The Author is an Associate With CGN Global India.