Research reports estimate that the drone-driven market globally will soon be more than $10 billion in value. India's drone market alone is estimated to grow up to $885 million by 2021.
DRONES AND THEIR COMMERCIAL APPLICATIONS
Here's How Drones are Set to Impact the Logistics Industry in India Drones or UAVs (Unmanned Aerial Vehicles) are aircraft that are either controlled via remote or fly autonomously using software. From emergency services and news coverage to delivery of goods, environmental monitoring, and Wi-Fi access, drones have a wide range of commercial applications. Many global companies are experimenting with drone technology. Google has invested in drones to enable Wi-Fi access to more parts of the world. Amazon is developing Amazon Prime Air; a service that will deliver packages using small drones.
THE REGULATORY ENVIRONMENT SURROUNDING DRONE USAGE IN INDIA
In India, the commercial use of drones has been limited by policy paralysis. The Ministry of Civil Aviation has taken several years to come up with a policy around drones and their commercial use. This was mainly due to quick evolution of the technology, lack of regulatory framework across the world, and India's precarious security environment.
It is only this year that the ministry released the first set of regulations governing the commercial use of drones. As a result, flying drones for commercial purposes has become legal since December 2018. However, some restrictions on the use of drones still exist. These should be relaxed when the government releases Drone Regulations 2.0.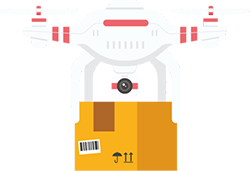 USE OF DRONES IN THE LOGISTICS INDUSTRY
In recent years, GPS, AI, machine learning, and other advanced technologies have greatly improved speed and efficacy in the logistics industry. Logistics start-ups like Rivigo, Delhivery and e-commerce companies like Flipkart and Amazon have leapfrogged innovation in the sector.
The use of drones in logistics will be the next big technology leap. Last-mile delivery using drones is one of the greatest commercial applications of drones today. According to a 2017 supply chain survey, 57% of the respondents said that their customers demand same-day delivery. Drone delivery services like Amazon Prime Air will deliver products to customers in less than 30 minutes. This can take customer service to the next level.
Drones also use significantly less manpower, thereby reducing long-term costs. Heavy-duty drones can move inventory from one warehouse to another, resulting in much smoother inventory management.

THE FUTURE MODEL OF OPERATIONS WITH DRONE USE
Drones have the potential to transform the logistics sector. Not only can they deliver products in record time, but they can also be used in warehousing to conduct real-time stock checks. When used together with AI algorithms, drones can totally automate the movement of inventory, radically transforming logistics as we know it today. In the future, we may even see a driverless vehicle moving from the warehouse and automatically dispatching drones for last mile deliveries.
If all goes well, the use of drones will be able to automate many routine and time-consuming tasks. We can soon expect a more efficient logistics industry, with lower costs and better profitability.
USE OF DRONES IN THE LOGISTICS INDUSTRY
While drones are definitely the future for the logistics industry, there are important steps that need to be taken first. Regulatory frameworks need to evolve quickly as drone technology evolves. Drones also face challenges like high manufacturing costs, privacy concerns and the maximum weight of the shipment. The industry will have to figure out a way to navigate these challenges quickly. Once these obstacles are surmounted, drones will be able to reach their full potential and transform logistics as we know it today. The sky is literally the limit!