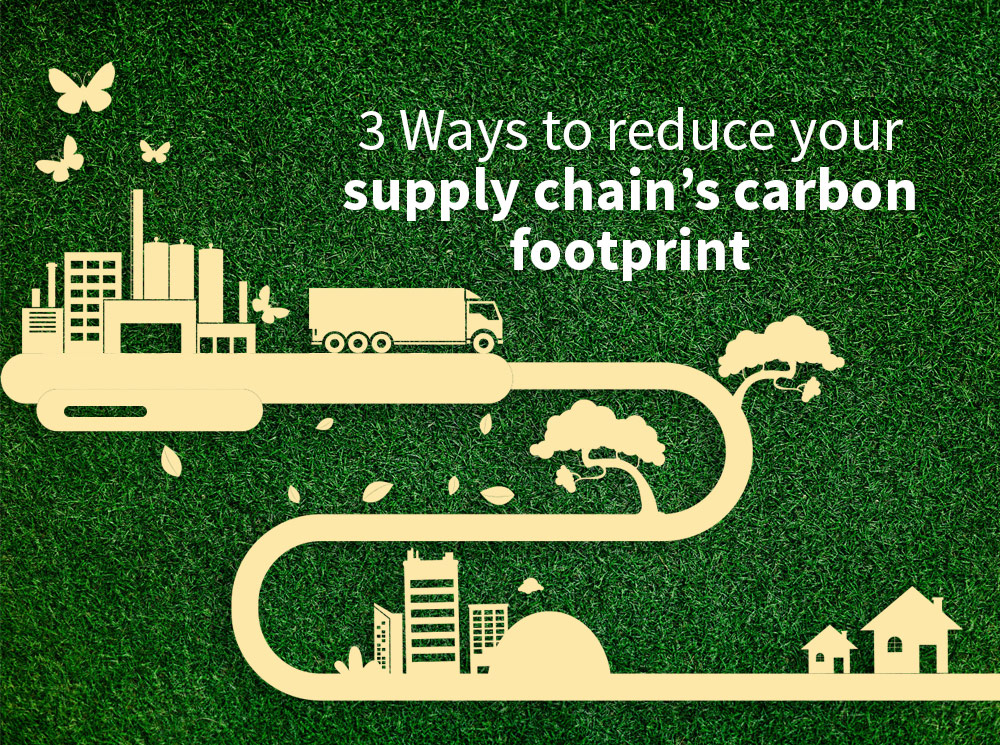 AUTHOR : Sam Suvarna

Businesses, whether large or small, are becoming increasingly concerned about their carbon footprint, as the worldwide concern about environmental sustainability is rising. Companies are increasingly becoming interested in tracking, monitoring, and reducing their carbon emissions both internally and even along each point of their supply chain. Research shows that supply chains can be responsible for up to four times the greenhouse gas emissions of a company's direct operations. For that reason, a growing number of leading companies are cooperating with their suppliers to manage their carbon emissions.

Impact of carbon footprint reduction

Companies understand that lowering the carbon footprint along their supply chain can not only substantially contribute towards the company's sustainability initiatives, but it also has quantifiable business effects such as lowering of operational costs. However, to find out where the carbon emissions are mostly concentrated in the supply chain, and to develop necessary controls and put them in place, businesses would require quality information and assurance. Measuring the complete carbon footprint across a global supply chain can be challenging though, as it is a complicated task that is time and resource intensive. The challenge begins right from convincing the suppliers to adopt a low carbon regime, to tracking the supplier's sustainability reports, to finding ways of adopting strict measures to control and manage carbon emissions. Listed below are three ways in which companies can tackle the challenges associated with mainstreaming and reducing carbon footprint in the supply chain.

1. Building allies and demonstrating value

The magnitude of supply chain emissions can vary widely across business units, so it makes sense to focus first on those parts of the organization that can have the greatest influence on overall supply chain emissions. Once a company has identified allies among suppliers who can help further their goal, companies need to demonstrate the value of managing supplier emissions. By demonstrating a direct connection between reducing emissions and achieving business unit performance goals, these allies can build broad internal support for making the supply chain green.

2. Setting sustainability targets and environmental auditing

Businesses need to provide specific targets to their suppliers to reduce their carbon footprint. They can also conduct environmental audits for new suppliers before bringing them on board. Companies should also ask suppliers to report emissions data directly to them. Businesses can take the initiative of creating sustainability awareness, and train the employees of suppliers and vendors.

3. Greening the logistics chain

Transport is the second highest emitter of greenhouse gases worldwide. Considering that transport represents such a significant share of greenhouse gas emissions in the supply chain, it is crucial for organizations to account for the impact of their logistics processes in the environmental analysis of their supply chains. Greening the transportation systems provides the best opportunities to reduce carbon emissions. A sustainable transportation and logistics strategy includes analysis and monitoring of both owned and third-party operated fleet and logistics, as well as the type of fuel used. Companies need to encourage and choose suppliers that use transportation modes and fuels that are more environment-friendly.

The way forward

Reduction of the carbon footprint can result in a reduction of costs for the company taking initiative, ensure better management of risks, and promote better business growth. This is because once you decide to reduce your organization's emissions, you will automatically choose business partners who believe in the same and are more efficient. Also, by deciding to go green, you will make way for innovative practices that ensure minimal carbon emission along your supply chain. Moreover, it will be a very effective way of influencing suppliers to reduce their carbon footprint so that they can continue being a part of your supply chain. So, the many benefits of reduction of carbon emission and the ways in which it can be achieved, are sure to inspire more companies in the future.