Akshay Balachandran on Jun 28, 2018 5:00:00 PM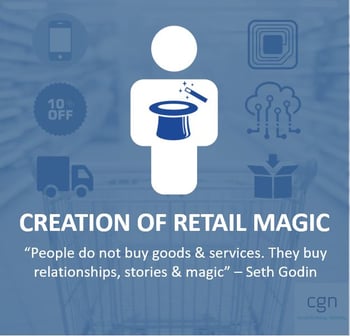 WHY IS EVERYONE GOING "IoT" ?
The Internet of Things (IoT) is the new "abracadabra" in the retail world. The technology has been around for at least 25 years, though the technology has only just matured, and is creating an impact on retail businesses.
In a recent article, Forbes reported that retail sales in 2017 were $3.5 trillion and estimated a 4% growth this year. Indeed, there is opportunity to increase revenue, by targeting the right customers, but despite increased sales, 7,000 major store closing announcements were made last year. The store closings were caused primarily due to the changing behavior of the customer, and the ease of ordering a product with the click of a button or a simple voice command. Brick and mortar stores carrying products have merely become museum pieces, a thing of the past. Retail sales are continuing to grow. However, the channel that the product is being purchased through by the customer is changing. By analyzing customer behavior and providing real-time solutions, IoT devices and applications create impact and improve operations in this pivotal shift.  The change in customer behavior causes a necessary change in structure of supply chain networks and financially sustainable business models.
HOW CAN IT HELP ME?
CGN continues to recognize this shift across the retail industry. As retail supply chains continue to go more and more digital, IoT devices and applications are becoming magic wands, ready to instantly shift a supply chain's course.  With retail giants, such as Amazon and Walmart, sharing their digital transformations through IoT software, retail vendors and distribution centers, they have encouraged this shift. In the hope of growing the business and taking it to new heights, a few IoT impacts on the retail business include:
Improved Quality

Using temperature sensors for refrigerators to set optimal temperature control for grocery products

Identifying Target markets

Identifying substitutional, impulsive, and loyal customers; in addition to targeting them with marketing coupons and improving the journey of the customer

Cost Reduction


Setting the right amount of energy resources (electricity) required and predicting downtime for machinery present in retail stores

Inventory Management

Predicting the next stock out and plan optimal amount of buffer stock; critical for perishable retail products with short shelf life
WARNING
Even though IoT is cool and a hip thing to talk about in business conversations, it is important to analyze each business problem individually and estimate the true value and impact of IoT applications for each problem. In conclusion, IoT devices and applications still need to mature, in terms of creating an ecosystem of devices, analyzing real-time data, and generating a point of focus for autonomous operational use. Be careful while playing with magic.
CGN VALUE
CGN Global's Digital Transformation Service is uniquely positioned to recognize and address this industry shift. CGN has developed digital solutions that provide business insights by leveraging the signals gathered from these IoT devices and other sources. It can help transform organizations worldwide to improve performance, profitability, and global competitiveness. We use our diverse experience and broad knowledge to provide strategic insights, actionable recommendations, and focused execution to drive results. We identify the challenges and the market opportunity with the use of IoT applications.